Originally published June 4, 2009 in the Athens NEWS

After year of hard work, students premiere their first feature film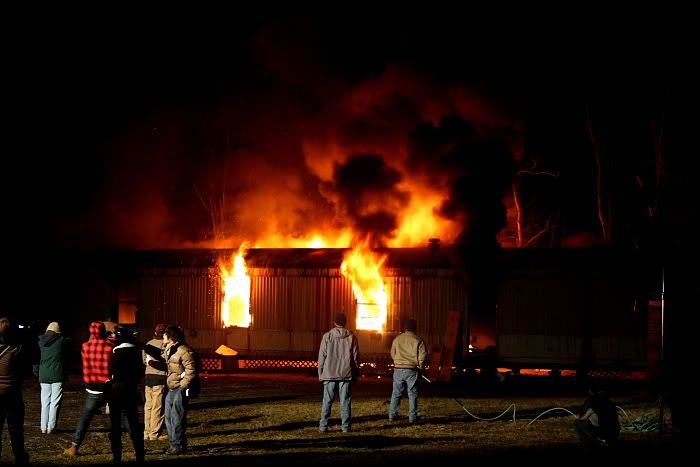 Students shooting a scene with a trailer fire for the film "Trailerpark"
Written by Mike Barajas

After a year of tireless planning, grueling shooting schedules in the rain and snow, and work-filled weekends, a class of media arts and studies students have finally pulled it off. The long-awaited student feature film "Trailerpark" premieres this Sunday at Ohio University's Memorial Auditorium.

What started off as a Media 419 class project has been molded into a professional-caliber film, said Frederick Lewis, the associate professor of media arts and studies who taught the course. In the fall, Lewis pulled together the class of 70 students, divided them up into crews, and put them to work at a daunting pace to complete the program's first student feature film by the end of the year.

"Man, they really killed it… The concept that we originally talked about, it's there," Lewis said. "I had high expectations at the beginning of all this, and you know what? It's surpassed them."

The progression from beginning to end has been long and hard. Several students late last year began adapting screenplays for "Trailerpark," based on a book of short stories by acclaimed author Russell Banks. The screenplays were so good, Lewis said, they just had to be turned into a feature. Lewis decided to have his students collaborate on one full-length film, instead of a series of shorts.

The project quickly snowballed into a $55,000 undertaking. "It was a gamble; we all really took a gamble," Lewis said.

Patrick Muhlberger, co-director on the film and a junior in the School of Media Arts and Studies, has been involved with the project from beginning to end, helping write the screenplay last year. "I can't believe how much I've learned about the film-making process over this past year," he said.

At the outset, many of the students were pretty raw and inexperienced, Lewis said. "None had been on a set of this magnitude… but they really ramped up," he said.
Throughout shooting, the students worked around the clock, once taking a trip to Michigan to shoot some pivotal scenes, and even giving up their spring break to stay in town and shoot non-stop.
Pierce Martin, a sophomore audio production student on the film's audio crew, said he had little to no experience with doing audio for film before working on "Trailerpark."

"I hadn't really done a massive amount of work like this prior to this film," he said. Martin and the rest of his crew are currently working around the clock to put the finishing touches on the film, and he said that they hope to finish up audio post-production work in the next 24 hours.
Jonny Look, the other co-director on the film and a senior media arts and studies student, said this project has been crucial to his education in filmmaking. Look said he has learned how to communicate as a filmmaker, with the crew as well as with the audience. Look, who also helped develop the screenplay, said the writing process gave him invaluable lessons in how to create characters, develop story lines, and write meaningful dialogue.

"I think I really learned how to write lines that mean something," he said.

Prior to working on "Trailerpark," Look said he knew what he wanted as a filmmaker, but had a hard time conveying it. "I think before this project, everything I knew about filmmaking was subconscious," he said, explaining that he can now better articulate the direction he wants to see a film take.

"By far, the most I've learned in school has been on this project," he said. "The only way you're really going to learn about how to make a film is out of the classroom, behind a camera and being actually on set."
Lewis said he's proud of his students, and noted that they have had an experience many undergraduate film students will never get. "At most schools, you don't even touch a camera until you're a junior… and even then it's rarely a feature like this," Lewis said.

The progression of the students working on the film, Lewis said, has been profound, adding, "Some have said it was a ragtag group at the beginning, but they're a well-oiled machine at the end."

Lewis, just back from the last class with all the students, said one of his favorite moments of the project was the night shooting wrapped. "I think I realized how special of a period of time it was for all of us," he said.

Muhlberger agreed – "It's been one of the most important parts of my life for such a long time now."

The film premieres Sunday at 7 p.m. in Memorial Auditorium. Tickets can be bought in the RTVC building, suite 202 or online at www.trailerparkmovie.com.